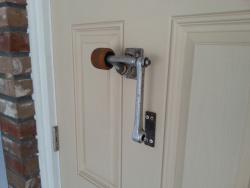 A Door Knocker Made from old Bike and Skateboard Parts
Mon Mar 3 18:25:13 CST 2014
We got new doors on our house recently and I decided that we needed to get a door knocker. After looking at various door knockers online and not finding any that seemed suitable my wife suggested that I try to make one. I said maybe I could make one out of old bicycle parts, and she loved that idea (isnt she cool?).
I had an old heavy steel crank arm (from one of the donor bikes from which I made my recumbent bicycle a few years ago) that was perfect for the knocker, but I couldn't find any bike parts suitable for mounting it in a swingable position on the door.
That's when I noticed some old skateboard trucks and very quickly figured it out. I mounted the crank arm on one side of the axle and stuck an old wheel on the other. To keep the crank arm in position I put one skateboard bearing on either side of it and then tightened the axle nut just enough where the arm would still swing freely. For the striker plate I used the gripping surfaces from a broken vise. I had salvaged these a couple of years ago thinking they might be useful someday.
Now I have the perfect door knocker for an old skater and bicycle enthusiast.