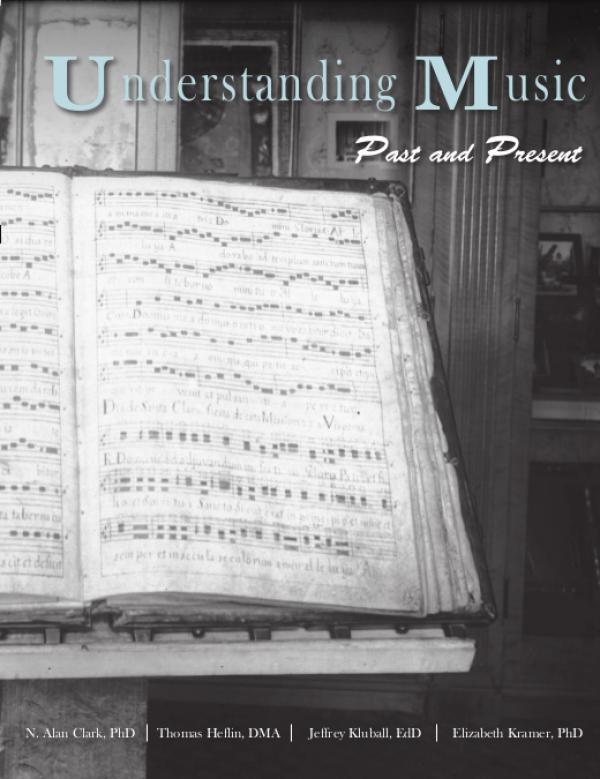 Understanding Music: Past and Present (2015)
Revised and Corrected Edition by Jonathan Kulp, 2017
Middle Georgia State University
Abraham Baldwin Agricultural College
Darton State College
University of West Georgia
This ebook edition by Jonathan Kulp, 2017
Understanding Music is a CC-licensed Music Appreciation Textbook from GALILEO Open Learning Materials. I decided to make my own edition of this book because I was very much interested in adopting a free, Creative-Commons-licensed Music Appreciation textbook, but the only format in which it is available from Galileo is PDF, which is inappropriate for small devices and does not meet basic accessibility requirements such as the ability to change the font size. If you would like to download the original PDF, please visit their page. (NOTE: If you are one of my students, please do not download this PDF, as it is riddled with typographical and factual errors.) Various formats of my edition are available below in the download table. My Edition features embedded audio players where there were links to MP3s in the original file. The web page version has embedded videos, but so far I haven't figured out how to embed YouTube videos in the Epub format. I'm working on that.
Available versions
ePub (most ebook readers and apps). Includes embedded audio players (24MB)
ePub Dyslexic edition—embedded OpenDyslexic font, wider line-height, and extra spacing between paragraphs
Kindle (azw3). Does not support embedded audio players (10MB)
Kindle (azw3) Dyslexic edition—embedded OpenDyslexic font. Choose "Publisher Font" on your Kindle. (10MB)
Monocle embedded eBook reader. Includes embedded audio players. (Use Chrome browser for best results)
Straight HTML. Includes embedded audio and video players.
Need help choosing an ebook app? See my handy E-Reader App Compatibility Chart